Model10
Fully differential balanced output headphone amplifier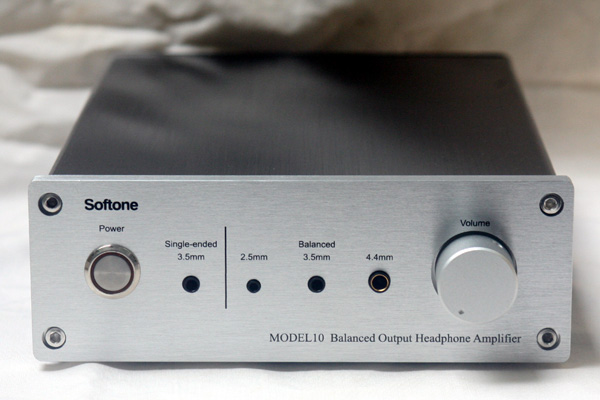 The superiority of sound quality by balanced drive.

Fully differential amplifier
Adopts a fully differential circuit that can obtain high quality balanced output and unbalanced output at the same time.

Various headphone output
3 types of balanced output
Korean iriver standard 2.5mm 4-pole jack
China OPPO / HiFiman standard 3.5mm 4-pole jack
Japan Sony standard 4.4mm 5-pole jack
Unbalanced output丂
3.5mm stereo jack (4 pole pseudo balance compatible)

High power output
Balanced output 3.5W/32ohms, Unbalanced output 1W/32ohms

Wideband
Wideband all-stage direct-coupled DC amplifier丂DC to 250kHz

Headphone protection
Model10 has a protection circuit that protects expensive headphones.
The protection circuit disconnects the headphones under the following conditions.
A DC voltage of + -200 mV or more was generated at the output.
An overload occurred with current consumption exceeding 0.7A.
5 seconds after turning on the power. Avoids noise when the power is turned on.
Power supply voltage drop due to power failure. Avoids noise when the power is turned off.

Discrete configuration
Aiming for high sound quality, Model10 is composed of discrete parts that do not use operational amplifiers.
High quality parts are used.

ON Semiconductor Dual MOSFETs and Dual Transistors
Large size resistor
Large capacitor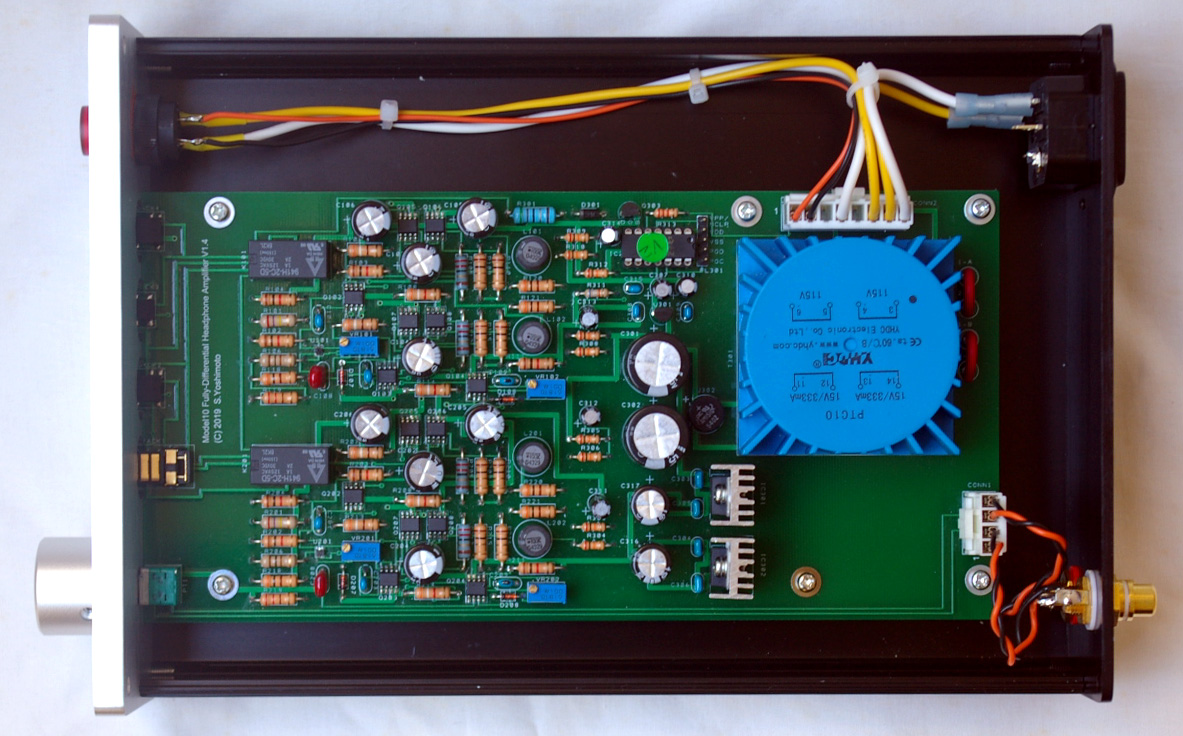 High quality power supply
Model10 has a built-in high-performance power supply using a toroidal transformer.
Since no power adapter is used, Model10 can be installed in a neat manner.
Equipped with an IEC standard power connector, you can use your favorite power cable.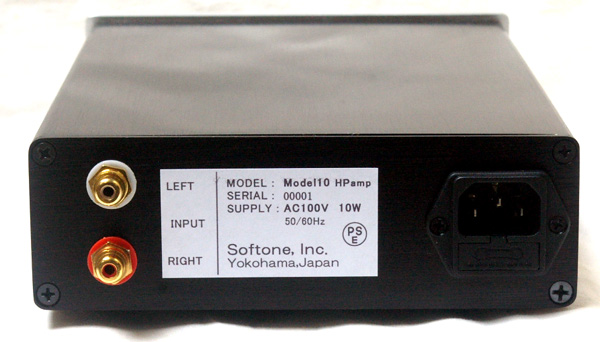 Sturdy chassis and high quality input terminals
The 8mm thick front panel and aluminum sash chassis provide stable operation and durability.
Gold-plated RCA terminals are used for the input terminals.

Technical explanation
Please look at Model10 technical description about an internal photograph, a circuit diagram, and detailed description.

Price

Specifications
Model10
Unbalanced output
Balanced output
Input
RCA input (unbalance) x1 Input impedance 10k ohms
Headphone output
3.5mm stereo jack
(4 pole pseudo balance compatible)
Korean iriver standard 2.5mm 4-pole jack
China OPPO / HiFiman standard 3.5mm 4-pole jack
Japan Sony standard 4.4mm 5-pole jack
Headphone suitability
Headphones with impedance of 16 ohms or more
Output power
1W/32ohms
3.5W/32ohms
Frequency Response
DC - 250kHz (-3dB)
Distortion
0.01% or less at 100 mW丂
Gain
7dB丂丂
14dB
Noise
29uV乮Uncorrected乯
17uV乮Hearing corrected乯

48uV乮Uncorrected乯
34uV乮Hearing corrected乯
AC Power Requirements
110-120Volts, 50-60Hz or 220-240Volts, 50-60Hz.(Choose at the order.)
10W
Dimensions
width 17cm, depth 30cm, height 6.5cm, Weight 1.6kg