Model_1-300B
INTEGRATED STEREO AMPLIFIER
We use an ultimate electron tube 300B for our Model_1-300B. You can enjoy a powerful and warm sound.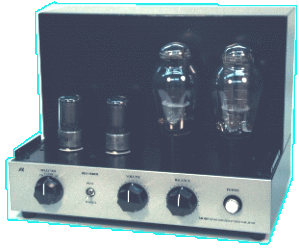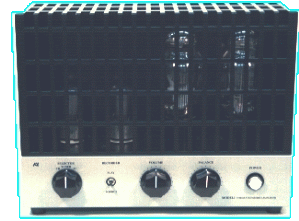 The above picture is for explanation. Model_1-300B is ordinarily furnished with protect grill for safety.
Powerful and graceful sound
We use a pair of ultimate direct-heated triode tubes 300B for building our Model_1-300B amplifier. In 1938 300B tube was originally developed by Western Electric Co. in U.S for movie sounds playback at a theater. Western Electric was first a manufacturing division of Bell telephone Co. called AT&T now, and the company had been making high-level telephone systems and talkie equipment of movies which were very popular entertainment in those days. When you see an old movie, you might often notice the sign of Western Sound System or Westrex at the end of film. 300B tube was the final tube purposed to give hundreds of audience the best sound with the feeling of being at a live performance. Although Western Electric has given up producing sound devices for movie for long time, people praise their achievements and sound even now. Today we again install 300B tube in our device to reproduce that high quality sound in various scenes from a beautiful musical to a realistic action at home.

Easy to use
Model_1-300B has three line-leveled input terminals and one input/output terminal for record and playback. You can enjoy listening to wonderful music to combine it with a CD player, a MD deck and a pair of small good speakers. When you connect it to a personal computer, the computer could make a rich sound instead of flat one. The size of Model_1-300B is 12"(30cm) wide and 10"(25cm) deep that is similar to a mini-component stereo set and that looks so cute. Since a grill case protects a fragile part of tubes, Model_1-300B is friendly to use.
Vacuum tube amplifier in Digital age
Now we can enjoy clear and noiseless sound easily with CD or MD. In Model_1-300B many state-of-the-art semi-conductor devices drive 300B tubes in order to make the most of the digital age technology. It includes four stabilized power supplies for noiseless power, a high quality drive circuit and an exclusive transformer for getting broad and high-powered output. The contemporary advanced technology of circuit and parts makes Model_1-300B generate 8W output under low noise of 0.8mV. Although someone might be afraid that 8W-outout is too small, Model_1-300B has enough power to enjoy music at home.
Composed design and solid structure
The antique-like and simple design of Model_1-300B creates a relaxing atmosphere, as if the amplifier had stayed there for some years. When you bring it to your room, it must match with the room's furniture and decorations. Model_1-300B is firmly assembled with welded steel plates and finished with selected thick and fired paint. The strong frame brings about authentic feelings of material.

Reasonable price
The catalog price of Model_1-300B is US$900.00 .
Notes about the tubes
We use a pair of selected 300B tubes made in China in Model_1-300B. China has manufactured many 300B tubes for a decade. These days they can make very high quality 300B tubes. If you want more information, please see the page of the tubes in Model_1/Model_1-300B.
The specification about Model_1-300B
Model_1-300B is remodeled from Model_1, changed the power tubes to 300B. The model name on the front panel is printed as "MODEL1".
Price
US$900.00 (exclude tax and carriage)
Inputs
line x 3, record/playback x 1
Output Taps
4 ohms, 8 ohms
Power Output
8W + 8W
Noise and Hum
less than 0.8mV
Frequency Response
25Hz to 80KHz (-3db,1W)
Tubes
300B x 2, 6SJ7 x 2
Dimensions
width 12"(30cm), depth 10"(25cm),height 9.5"(24cm)
Weight
22 lbs.(10Kg)
Power Tube Operation
Class A1 Single Ended, Fixed bias,
Stabilized DC filament and plate supply.
AC Power Requirements
117-120Volts, 50-60Hz or
220-230Volts, 50-60Hz.(Choose at the order.)
110 Watts